The d Awards is an annual event hosted by the Malaysian Digital Association (MDA) to honor the best digital talents, distributors, brands, services and outstanding pioneers in the industry. The winners of the 2022 d Awards was announced on May 11, and TenMax was awarded the "Best Tech Developer" of the year, a solid proof that TenMax's digital advertising technology is well-received by local organizations.
TenMax AdNeon Helps REV Media Group Captivate Audiences with The Best Rich Media Advertising Experience
As consumers pay less attention to conventional banner ads, Malaysian publishers are rethinking ways of using next generation ads to help brands achieve better results. Thus, ads that blend multimedia content and creative interactive layouts, a.k.a "Rich Media" ads, have became the publishers' new favorite.
Realizing this market need, TenMax launched AdNeon, a one-stop rich media ad serving platform in Malaysia to help publishers plan and implement rich media marketing campaigns for brands with ease and efficiency. This led to a partnership between TenMax and REV Media Group, Malaysia's largest online media group in 2020. The impressive outcome of this collaborative relationship was key to TenMax's triumph as the "Best Tech Developer" of 2022 MDA d Awards.
TenMax AdNeon, The User-friendly Rich Media Advertising Platform: Simple, Instant and Convenient!
Publishers often have to deal with a lengthy and cumbersome workflow when offering rich media ads as they need to rely on third-party vendors' support to change materials, modify engagement method, and preview creatives, resulting in low work efficiency.
TenMax AdNeon solved these issues for REV Media Group by reducing the seven-day workflow to one minute, simplified the process of uploading creatives, built different parameters within the layouts for easier modification, and allowed preview of the creatives in real time, hence eliminating the need for complicated coding and complex communication procedures. Using TenMax AdNeon, REV Media Group was able to create high impact ads instantly, increase service efficiency, achieve 28 times more ad click-through rate (CTR) and reap 45% more ad revenue!
Taiwanese Creation, Global Ambition: TenMax Eyes APAC Growth
Specializing in the research and development of digital advertising technology, TenMax's efforts to provide the best advertising technology and platform in the APAC region has produced remarkable results.
In 2021, TenMax was selected by the MMA SMARTIES Business Impact Index as one of the "Top 10 Outstanding Digital Marketing Solution Providers in Vietnam", alongside with tech giants such as Google, Facebook, YouTube, etc. TenMax was also appointed by Gojek, the largest unicorn and digital group in Indonesia, as a trustworthy partner to co-develop GoGAN, Gojek's exclusive retail advertising platform. Most recently, TenMax was recognized as the "Best Tech Developer" in Malaysia.
Having gained numerous industry recognitions and awards, TenMax has gradually established itself as a household name and will continue to play a key role in APAC's digital marketing industry!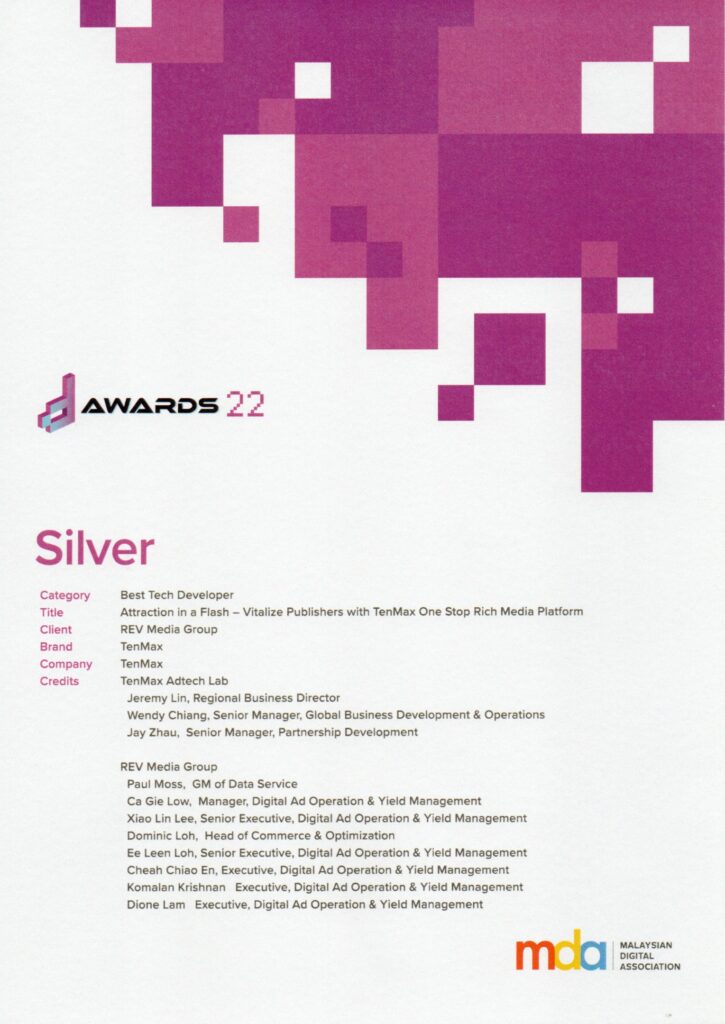 About TenMax AdNeon
Established in 2015, TenMax is one of funP Media Group subsidiaries responsible for developing innovative digital advertising technology, such as RTB real-time bidding system and advertising creative platform, and employing data to create value for clients.
TenMax AdNeon is a user-friendly rich media creative layout platform designed and developed to help website owners create highly effective ads for brand customers. TenMax AdNeon has more than 50 layouts which are updated quarterly, allows users to upload their creatives instantly and preview it in real-time, as well as capable of integrating third-party tracking data without the need to embed complicated codes – an ideal tool for publishers to further maximize the value of their website's traffic.
About the MDA d Awards
Comprised of 66 local digital publishers, platforms, advertisers and other enterprises, the Malaysian Digital Association(MDA) was established in 2019 to advocate the advancement and innovation of Malaysia's digital industry.
d Awards is an award organized by MDA and recognized by RECMA (Research Company Evaluation of Media Agency), an international independent benchmarking organization that evaluates media agencies. The 18 categories in d Awards aim to support innovation and development as well as to acknowledge outstanding players in the digital industry to reflect the widespread application of digital technologies in Malaysia.